Appropriate Technology Centre

The Appropriate Technology Centre is situated in Lakka Village near the capital city of Freetown. FOESL for quite a long time has viewed the current situation as a youth problem and decided to help solve this acute problem by developing an appropriate technology system to bring the situation to a sustainable horizon. These youths are sure to be trained to become useful in their different communities making Sierra Leone a safe and progressive society. The center is actually focusing on women and girls in the rebuilding process of a new Sierra Leone so that they can be active in decision making matters.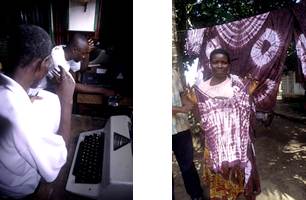 Activities at the center include typing, sewing and dress making, catering food processing and preservation, bicycle repairs, electronics, computer studies and carpentry. Composting and organic farming, permaculture and agro forestry are also a part of the center. The center will compose of a secured compound with an administration building, storage center, group home for war affected children, staff quarters, composting toilets, guest quarters, kitchen and dining hall, meeting hall, workshops and a small medical clinic. This center will also extend its services to other nationals within and outside of the region. As well, FOESL expects that friends worldwide will come to help us build a better Sierra Leone.
Gallery: Click to see larger versions of photos...