Earth Day 2010 activities
Energetic Olympics lives on! The City of Terrace, the Energetic Olympics gold medal winner in the Heavyweight division, has used its prize to support the efforts of the Greater Terrace Beautification Society. The society is a group of volunteers who are committed to promoting beautification of the Terrace area. They have been working for years to transform an abandoned gas station site in downtown Terrace into a green space, and this year with the support of the city and its Energetic Olympics prize, it is becoming a reality.
The city collaborated with the society and used the prize money to purchase native plant seedlings and supplies, with Terrace Mayor Dave Pernarowski and city councillors pitching in to help society members.
Check out their efforts and results below! You can also view media coverage of the event or find out more about the society.
Mayor Pernarowski (centre) and society President Chris Hansen (to right) hard at work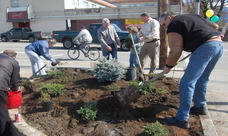 The results!